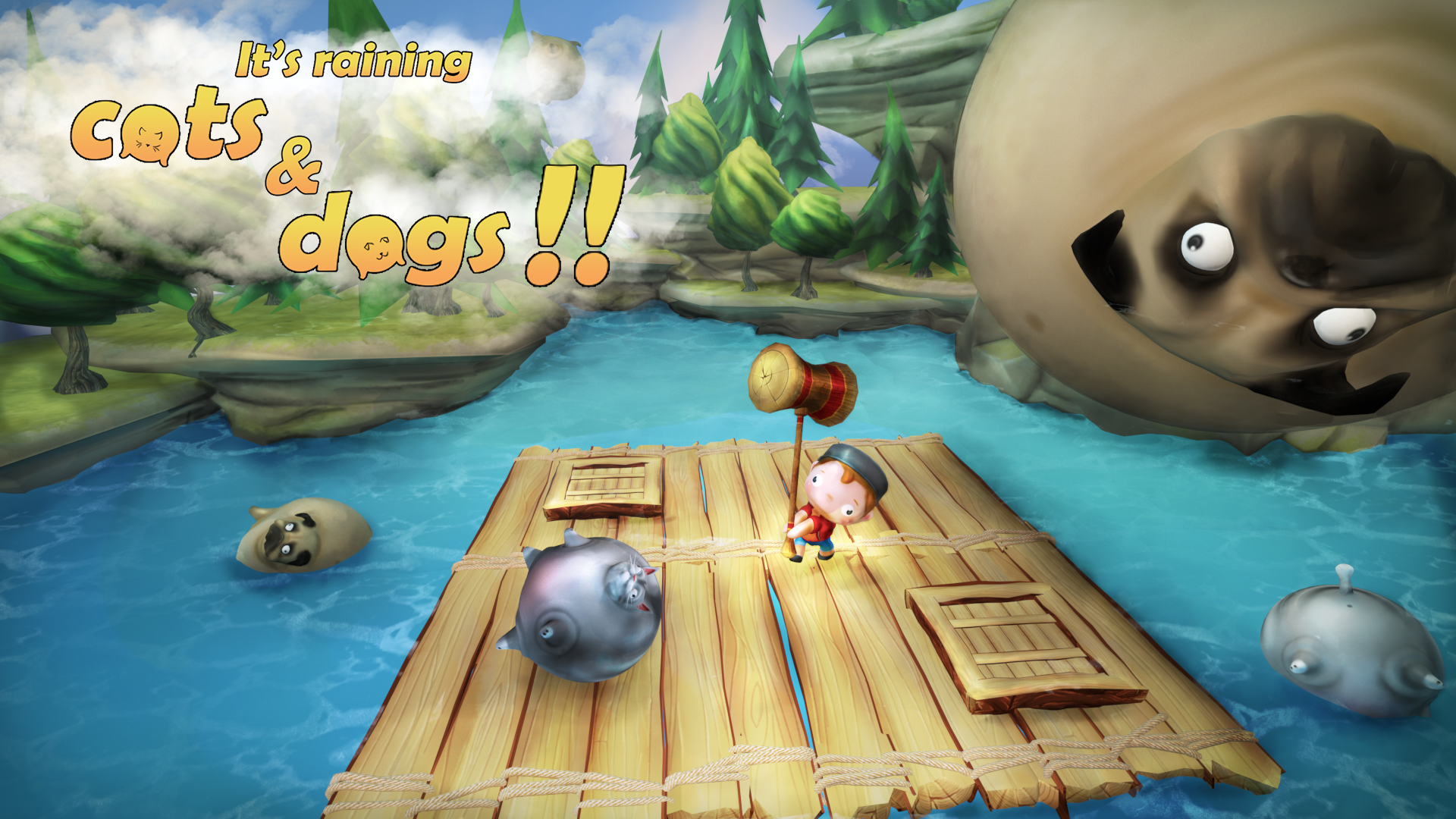 Game Jam - It's raining cats and dogs
It's raining cats and dogs !

Un jeu collaboratif, d'habileté, de précision et de coordination dans un univers comique, un peu sadique et trop mignon !

RÉSUMÉ

Le jeu se passe sur un radeau en flottaison sur l'eau. L'équilibre de ce radeau est contrôlé par le joueur 1, qui, grâce au joystick de la manette, peut incliner le radeau dans le sens voulu. Des trappes s'ouvrent et se ferment de manière aléatoire.
Des chats et chiens tombent du ciel et atterrissent sur le radeau, venant ainsi perturber l'équilibre du radeau. Ces animaux (très gourmands) sont incapables de se déplacer sans rouler à cause de leur forme arrondie.
Le joueur 2 est un personnage sur le radeau, il peut déplacer les animaux en les poussant, les expulser avec le marteau ou encore, cruellement, les écrabouiller avec le marteau.


Le but du jeu est de faire entrer le même nombre de chats et de chiens dans les trappes, en les poussant et en les faisant rouler grâce à l'inclinaison du radeau !


Vous gagnez la partie quand vous obtenez à peu près un même nombre de chats et de chiens dans les trappes. La jauge au premier plan est dans le vert !

Vous perdez la partie quand l'écart entre les chiens et chats attrapés est trop important. La jauge au premier plan est dans le rouge !

RESPECT DU THÈME

La thématique est intégrée de deux manières différentes :

* L'équilibre du radeau sur l'eau.
* Un bon équilibre entre les chiens et les chats attrapés.

LES CONTRAINTES

L'accessibilité du jeu est adaptée grâce à des règles simples, une prise en main des commandes intuitive, des contrôles et boutons restreints.
Le peu d'écriture apparait en gros caractère et les couleurs sont vives et contrastées.
Les effets sonores guident les joueurs dans leur interaction avec le jeu et les feedback sont clairs.

AMUSEZ-VOUS !

-----------

It's raining cats and dogs !
A collaborative, clever and coordination game, in a comic universe, a little sadistic and so cute!
ABSTRACT
The game takes place on a floating raft on the water. The balance of this raft is controlled by the player 1, who can tilt the raft in the desired direction using the joystick. Trap doors open and close randomly.
Cats and dogs fall from the sky, thus disrupting the balance of the raft. These animals (very greedy) are unable to move without rolling because of their rounded shapes.
Player 2 is a character on the raft. He can move the animals by pushing them, expelling them with the hammer or cruelly crushing them with the hammer.
The goal of the game is to bring the same number of cats and dogs into the traps, pushing them in and making them roll with the tilt of the raft!
You win the game when you get about the same number of cats and dogs in the hatches. The gauge in the foreground is in the green!
You lose the game when the gap between dogs and cats caught is too large. The gauge in the foreground is in the red!
RESPECT FOR THEME
The theme is integrated in two different ways:
* The balance of the raft on the water.
* A good balance between dogs and cats caught.
CONSTRAINTS
The accessibility of the game is adapted by simple rules, an intuitive control handles, controls and restricted buttons.
The font of the writing is big and the colors are bright and contrasted.
The sound effects guide the players in their interaction with the game and the feedback is clear.
HAVE FUN !